The Family firm's coach is a very fine Swann indeed!
When family run business Swann Tours was launched in 1986, trips were conducted on a Blackpool built Bedford Duple coach.
Over 30 years later Swann Tours has built up an enviable reputation in the Fylde area - and founders Betty and Ken Swann, plus son Darren, have been joined by Darren's wife, Jane, in the business.
And to make sure every trip is as enjoyable and comfortable as possible, Swann Tours has a Belgian-Dutch Van-Hool coach for the coming tours.
The coach has just 49 luxury seats and for the additional comfort of the clients, facilities include an on-board toilet and washroom, panoramic double-glazed windows and air-conditioning.
The company specialise in UK holidays mainly of three, five and seven days, and include popular destinations on the south coast, scenic Scotland, lovely Llandudno and Scarborough - plus short breaks to London.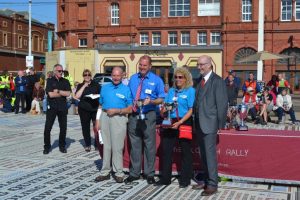 When you book with Swann Tours, you don't have to worry about the hassle of boarding feeder coaches, as all their holidays feature local departures, a door-to-door taxi pick-up service together with total luggage handling (only in the Fylde area).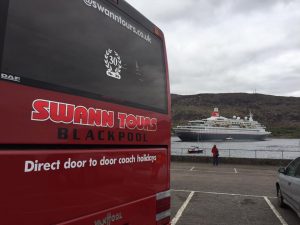 Most tours are accompanied by a courier, who serve snacks and hot and cold drinks on-board, and there are regular comfort stops en route.
Swann Tour coaches are also available for privae hire and excursions.
(text reproduced from local newspaper article)